Top Ten Things you need to host a Stranger Things Party
Posted August 8, 2018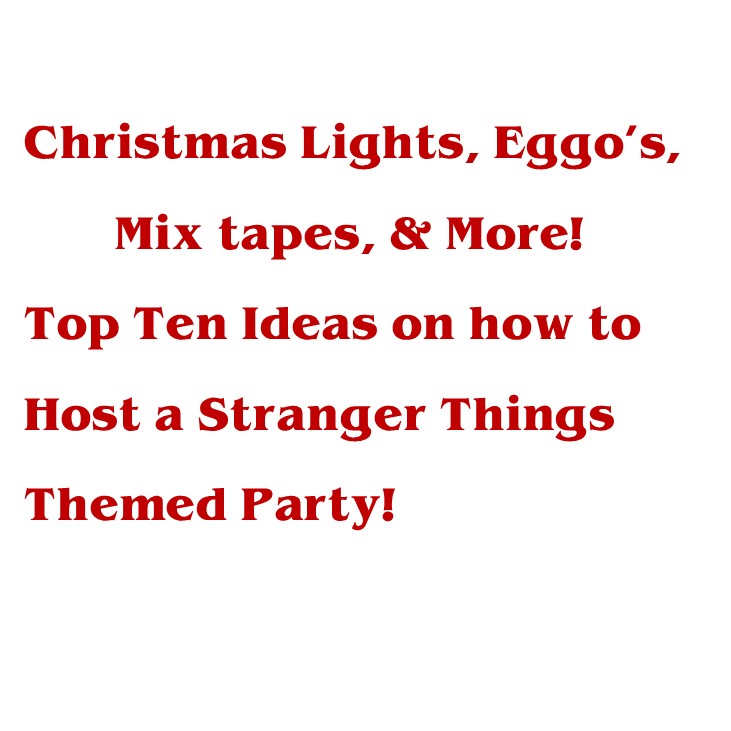 Has your world been turned UPSIDE DOWN since the release of Stranger Things? My kids, and my whole family love this show! Stranger Things is a great theme to host a Birthday Party or a cool Halloween Party! Here is my list of the top 10 things you'll need to host a great party!
1. You'll need to first make the invitations ( I have a few designs in my shop, but this one is my favorite!)
http://www.sweetdesignsbyregan.com/product/stranger-things-birthday-stranger-things-party-invitation-digital-file-you-print-stranger--0
2. Dress like it's the 80's - So many fun things come to mind here! Neon colors, big hair, lots of accessories! Or Dress like the characters on the show ( think 11 in her pink dress and jean jacket)
3. The Decorations - You'll need some Christmas Lights to string up! That's a must! You could make a cool Happy Birthday Banner under the lights to spell out the Birthday Person's name. You could put some Missing Person Flyers around the house ( for Will or Barb or be creative and make it the guest of honors picture).
4. The Food - How about a Waffle Bar? Bake up a bunch of Eggo Waffles and then put out some toppings ( think Ice Cream Bar just using the Waffles as the base!)
5. Party Games - Of course, the first thing that comes to mind is a game of Dungeons and Dragons! If that's not your style you could make a Treasure Hunt and hide some things around the house ( like a cigarette, a bat with nails, a box of eggos, a sunflower...you get the idea)
6. The Cake! There are so many cool options you could go with an easy simple idea is just to bake a sheet cake - Frost it white - draw a black string and then decorate around the string with colored M&M's ( think Christmas Lights) and then spell out your Happy Birthday Message - Here's a quick tutorial here :
http://www.delish.com/cooking/recipe-ideas/recipes/a55853/stranger-things-sheet-cake-recipe/
7. Table Decorations or Little Snacks - These little stickers fit onto the bottom of Hershey Kisses or other small round bottom candies! You can scatter them on tables or fill little bowls with them and place around the party.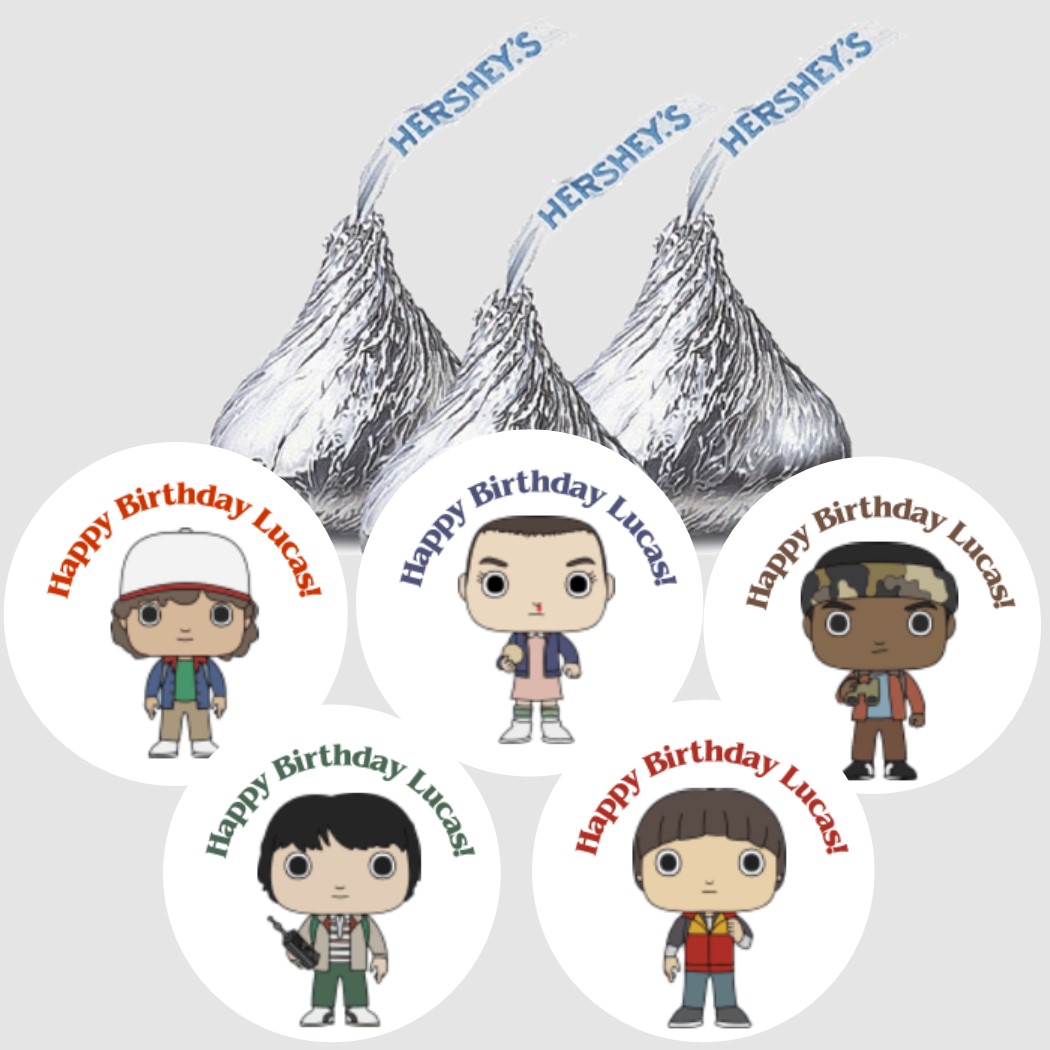 http://www.sweetdesignsbyregan.com/product/stranger-things-birthday-hershey-kiss-stickers
8. Have a movie playing during the party! You could also just stream episodes of Stranger Things but if you'd rather play a movie - think 80's classics! ET, The Goonies, Stand By Me, Etc...
9. The Music - You could make it easy and just stream 80's music or chose some iconic songs from the series like - Should I stay or should I go, Every breathe you take, Africa by Toto, TIme after time....
10. The Goody Bags/Loot Bags! - A must to any good party! - Fill your bags with some cool 80's things or Stranger things items and then tie on these cute tags and you'll have the perfect finishing touch to your party!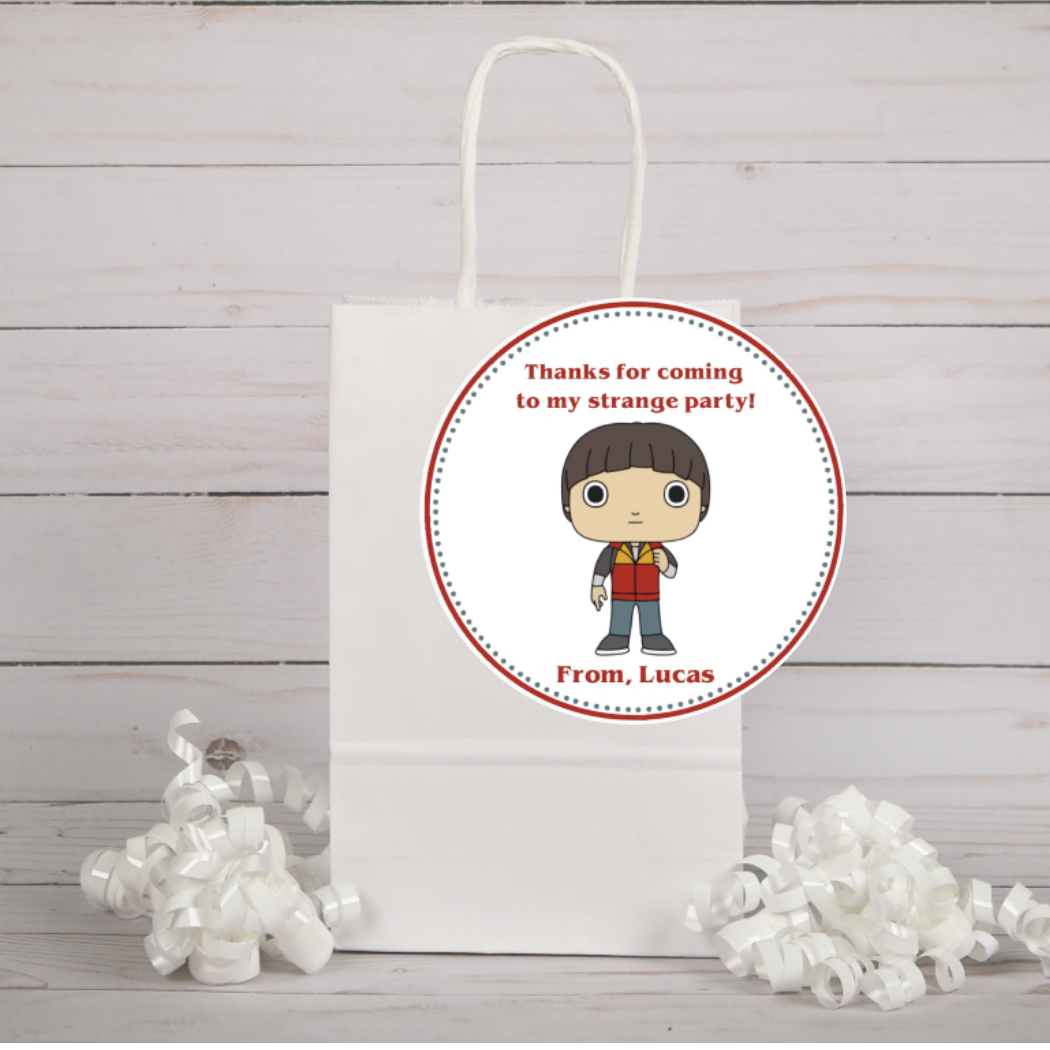 http://www.sweetdesignsbyregan.com/product/stranger-things-party-favor-tags-set-10-assorted-favor-tags
Any of the items you see here I can make for you! Just visit my shop - https://www.sweetdesignsbyregan.com
See you in the Upside Down....
» Share: